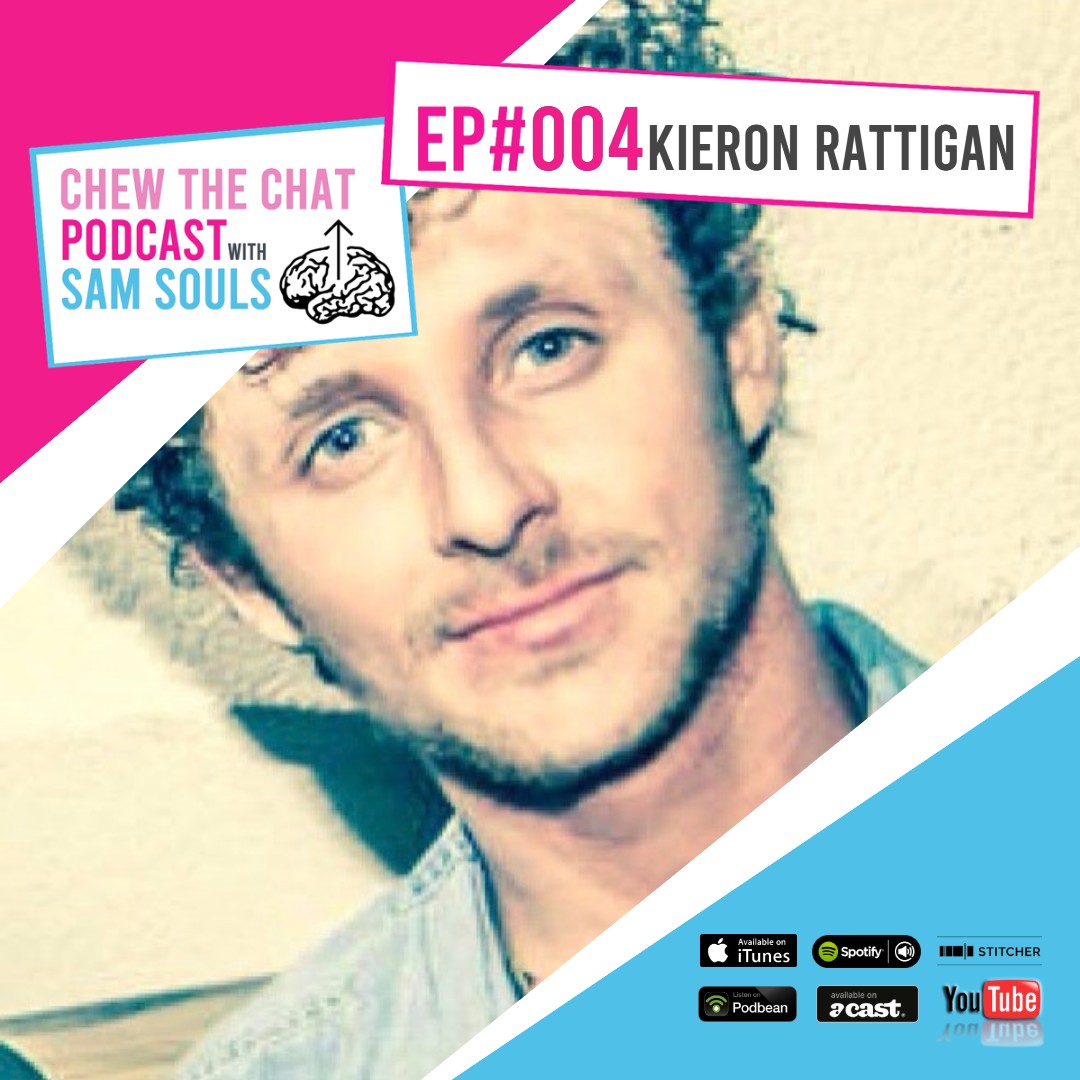 Hey, hello & welcome to episode 004 of Chew the Chat Podcast with Sam Souls.
This episode is with our guest Kieron Rattigan. Kieron has a heart warming story that centres around his internal quest for answers. His calm demeanour and his warm energy are engaging.
Kieron is the founder and owner of Go Deep Floatation. Go deep floatation is a therapy service that offers its users the chance to float in salt water for 1hr in total darkness. The health benefits both physical and mental discovered for this practise are astounding and continue to reshape the scientific understanding of the human condition. Offering the opportunity for recovery physically or mentally, expansion and growth helping people come back from from injuries, inflammation, PTSD, depression, anxiety and just about any condition we carry that is stress related in our lives. 
Kieron him self connected to the wonderful writings of Alan Watts Terence McKenna and Eckhart Tolle and they became the padstones of his new found thinking and off he went travelling to Brazil to test himself and connect with himself he returned to settle down with his now wife and build his life to be full of light. Kieron also experienced a sudden death in the family. Music became his solace and outlet and daring to dare opened doors for him as he worked his way up the musical industry he found himself working for Live Nation and out on tour with the likes of Kasabian, Elle Goulding, Ed Sheeran to name a few. 
Enjoy this guys its a story of love, wonder, travel, creativity and belief. It most certainly concludes beautifully with an ending worthy of tears. But, we didn't get to some of the most harrowing elements of Kieron's story so there will be another episode to come.
LIKE SUBSCRIBE RATE REVIEW and tell a friend and our luck will never end.
Thank you everyone.
SHOW LINKS
• Go Deep floatation https://www.godeepfloatation.com
• Kieron Rattigan https://www.instagram.com/kieronj/
• PODBIBLE https://podbiblemag.com
• SHOW SPONSORS
• Go Deep Floatation https://www.godeepfloatation.com
• Go Deep Instagram https://instagram.com/godeepfloatation?igshid=mz0gwdo4irpd • 10% discount code (Chew)
• Lincoln Cryo Lab https://lincolncryolab.co.uk • 10% discount code (Chew)
• Lincoln Cryo Lab on Facebook  https://www.facebook.com/mattfrost23/
• CHEW THE CHAT PODCAST • https://chewthechatpodcast.podbean.com/
• Chew The Chat on Instagram https://instagram.com/chewthechatpodcast?igshid=1tg2dkgazlowq
• Chew the Chat on Facebook https://www.facebook.com/Chew-The-Chat-Podcast-1143590079167060/
• Chew The Chat on YouTube https://www.youtube.com/channel/UCwh7lNk8x0Tm5DHuJzWrGtQ
• PRIVACY For information regarding your data privacy please visit https://www.acast.com/en/privacy