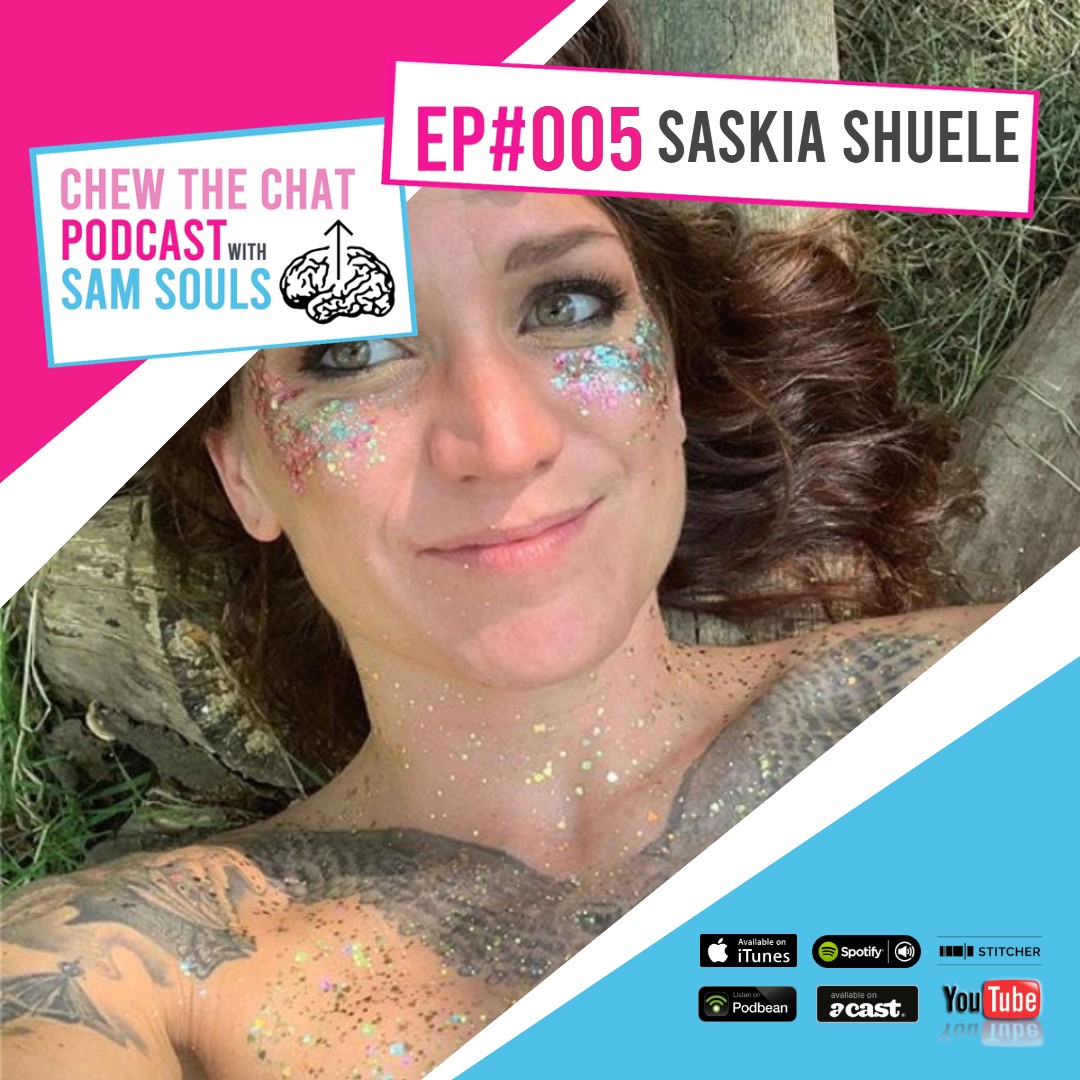 Hey, hello & welcome to episode 005 of Chew The Chat Podcast with Sam Souls. This episode is with our guest Saskia Schuele. Saskia has an inspiring story that begins around her internal quest for truth & adventure. Her powerful femininity and warm energy are engaging.
Born in Switzerland to her South African mother and Swiss father Saskia grew up in a dream like setting. Saskia set off to Bali to learn to surf - she became a bonafide Yogi, with an education in all things body and mind, Saskia offers an authentic in road to yoga and well being, she's a Yoga teacher in her own right as well as being an instructor at Hot Pod Yoga a therapy service that offers its users the chance to breath and connect to their bodies once more in a heated pod in partial darkness. The health benefits both physical and mental discovered for this practise are astounding and continue to reshape the scientific understanding of the human condition, offering the opportunity for strength physically and mentally, expansion and growth helping people to become stronger and calmer, while all the while helping come back from from injuries, inflammation, PTSD, depression, anxiety and just about any condition we carry that is stress related in our lives. Saskia is a wonderful inspiration.
Enjoy this guys its a story of adventure, travel, sexuality, yoga and life.
SHOW LINKS
• Hot Pod Yoga https://hotpodyoga.com
• Saskia Schuele Facebook  https://www.facebook.com/saskia.schule?fref=search&__tn__=%2Cd%2CP-R&eid=ARD_RXzV_5vnn8erpkhkHifpx-pj8jmwchtkQwAn7OqYP6NPko3bV2h0dX4PRFsw5w9bDkvF8O6d802F
• Saskia Schuele Instagram https://www.instagram.com/girl_with_the_owl_tattoo69/
• PODBIBLE https://podbiblemag.com
• SHOW SPONSORS
• Go Deep Floatation https://www.godeepfloatation.com
• Go Deep Instagram https://instagram.com/godeepfloatation?igshid=mz0gwdo4irpd • 10% discount code (Chew)
• Lincoln Cryo Lab https://lincolncryolab.co.uk • 10% discount code (Chew)
• Lincoln Cryo Lab on Facebook  https://www.facebook.com/mattfrost23/
• CHEW THE CHAT PODCAST • https://chewthechatpodcast.podbean.com/
• Chew The Chat on Instagram https://instagram.com/chewthechatpodcast?igshid=1tg2dkgazlowq
• Chew the Chat on Facebook https://www.facebook.com/Chew-The-Chat-Podcast-1143590079167060/
• Chew The Chat on YouTube https://www.youtube.com/channel/UCwh7lNk8x0Tm5DHuJzWrGtQ
• PRIVACY For information regarding your data privacy please visit https://www.acast.com/en/privacy