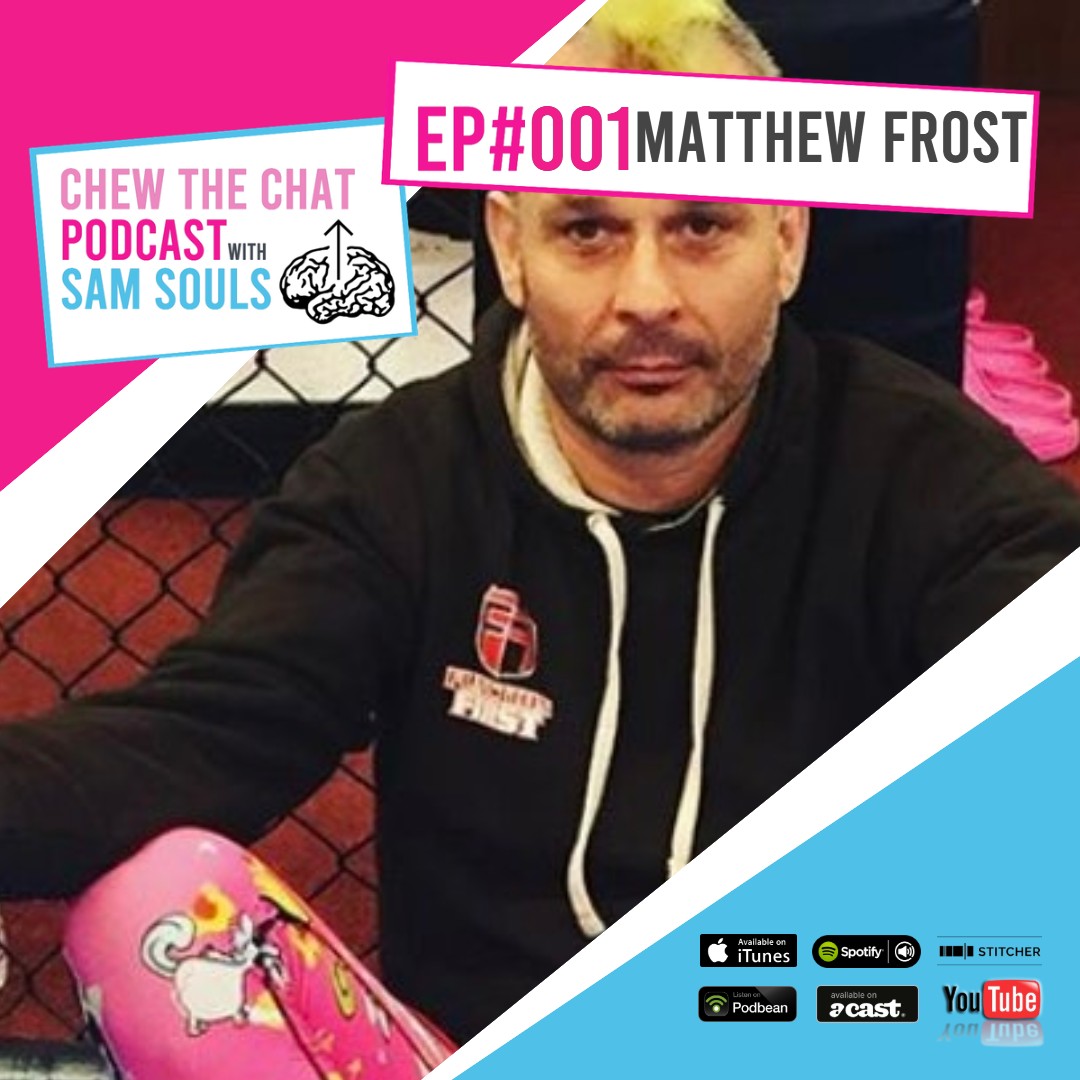 Hey, hello & welcome to episode 002 of Chew The Chat Podcast with Sam Souls. This episode is part 2 of 2. It's a fascinating story continued with our guest Matthew Frost.
Matthew is the founder and owner of Function First Martial Arts Academy. 
Off to Europe he went on his release, sound system in tow helping to build a lively,
high octane scene with moments of life changing impact from Spain & Portugal to Germany & Poland. Matthew experienced some serious violence and after his friend was attacked and stabbed in Spain, he fled to Portugal and it wasn't long before trouble found him once more and Matthew had a gun put to his head, his partner was shot and so he decided to bring his travelling party back home.
Ultimately burning out and in need of some soul searching introspection on his arrival back to the UK he carried on and expanded his Free party empire but he was fading mentally and now with hindsight it became clear he was suffering with PTSD. He began to repair his perspective and re build his
energy levels and his confidence after finding martial arts. In true Punk DIY approach
Matthew realigned his energy and turned his back on the party lifestyle, he began a martial arts journey that led him to running a very successful full-time academy with five full-time staff and now complete with a float centre and cryotherapy facility his Academy is a leading light in the UK.
Matthew also uses that Punk ethic and energy within his dealings on the stock exchange
and renovating houses and snowboarding.
His deep fascination with learning new things and creativity continues to thrive and inspire.
Enjoy this part 2 guys it's an inspiring white knuckle bus ride that concludes with a lovely ending!

SHOW LINKS
•Function First Martial Arts Academy https://function-first-lincoln.co.uk
• function first Instagram https://instagram.com/functionfirstlincoln?igshid=xw238q8e14i5
• Cryotherapy & Float Lab https://m.facebook.com/mattfrost23#_=_
• PODBIBLE https://podbiblemag.com
•SHOW SPONSORS • Go Deep Floatation https://www.godeepfloatation.com
• Go Deep Instagram https://instagram.com/godeepfloatation?igshid=mz0gwdo4irpd • 10% discount code (Chew)
• CHEW THE CHAT PODCAST • https://chewthechatpodcast.podbean.com/
• Chew The Chat on Instagram https://instagram.com/chewthechatpodcast?igshid=1tg2dkgazlowq
• Chew the Chat on Facebook https://www.facebook.com/Chew-The-Chat-Podcast-1143590079167060/
• Chew The Chat on YouTube https://www.youtube.com/channel/UCwh7lNk8x0Tm5DHuJzWrGtQ
• PRIVACY For information regarding your data privacy please visit https://www.acast.com/en/privacy